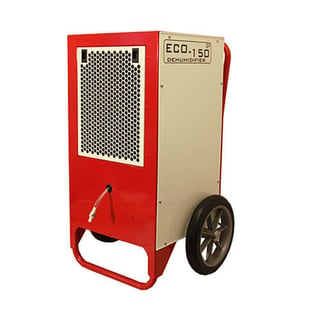 Excess humidity in your crawlspace or basement, warehouse, office, factory or industrial shop can cause problems like rot, corrosion, water damage and mold. Moisture can also attract pests, creating additional issues and hazards. An industrial dehumidifier is manufactured to remove extra air from a large space or a commercial environment – protecting your property and the health of you, your workers and your visitors.
You are probably familiar with home dehumidifiers, but if you're looking to add an industrial dehumidifier to an office or warehouse space, you may be wondering what sets commercial grade models apart. An industrial dehumidifier should be rugged in construction and able to handle a large space with ongoing moisture control needs. Find out more about how to choose a model that works for your business.
Sizing an industrial dehumidifier
Obviously, an industrial dehumidifier is going to be bigger and be able to handle a larger space than your typical home dehumidifier. It should be more rugged as well. But what size model do you need for the space you have or the humidity situation you need to get under control?
Factors that might influence what size industrial dehumidifier you need:
Geographic location
Dimensions of the space
Insulation, materials and other physical components of the space
Humidity level
Desired level of humidity
Air temperature
Fill out this dehumidifier sizing form for detailed feedback on what you need.
Specific industrial dehumidifier needs
Many businesses have very specific needs, such as controlling humidity in a food production facility or another environment that has very specific climate control requirements. You may store moisture-sensitive goods, such as products made of paper.
Health and wellness facilities with pools, spas, hot tubs and immersion tanks also need ongoing humidity control. Manufacturers of commercial dehumidifiers sell models that are designed to remove large amounts of moisture from pool areas. Some factors to consider if you need a pool dehumidifier:
Size of pool, hot tub, tank or water source
Water surface area
Water temperature
Percentage of time pool or hot tub is covered
Again, fill out this dehumidifier sizing form for detailed feedback on what will work best for a pool or spa area.
Commercial dehumidifier features
Some features to consider in a professional dehumidifier include:
Castors or wheels for portability
Mounting hardware for permanent installation
A pump and hose
Humidistat
A popular option is a commercial dehumidifier with pump, which allows water to automatically drain from the unit. You may also be interested in a model that has digital displays or an option to control its operation remotely.
Two popular and reputable brands of industrial dehumidifier are Seaira and Ebac dehumidifiers. Expect to budget from about $750 to $3,500 for a commercial dehumidifier. A reputable indoor environmental systems professional can help you wade through the options.
For a free consultation on assessing your industrial dehumidifier needs, contact Pure n Natural.