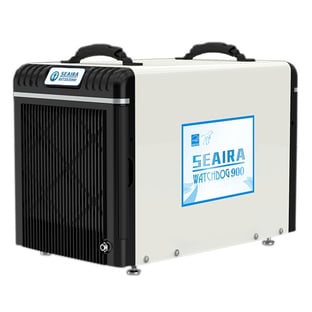 You have identified a moisture problem. Now you need a professional dehumidifier to deal with it. You've probably read some online reviews of commercial grade dehumidifiers or browsed options at a big box store, but how do you sort through the different models to find the right one for your business? Talking to an environmental systems professional can help, but first figure out what available features are a priority for your business first. Learn about some professional dehumidifier features that could be relevant for your business needs.
Pump
A commercial dehumidifier with pump has the advantage of draining water from your unit without the need to manually dump the collected moisture, saving you time. Via the pump and hose, these convenient professional dehumidifiers will automatically route water to a drain. The Watchdog 900 crawlspace dehumidifier with pump is a great option for hard-to-reach areas that need ongoing humidity control.
Castors
Do you need a professional dehumidifier that can be moved around? Some models come with castors or wheels — as well as handles — that make them ideal for portability. These kind of units — such as the Ebac KOMPACT dehumidifier — can be great for businesses that do flood or other kind of water damage restoration work.
Low Temperature
Some models of professional dehumidifier are manufactured to function at low temperatures. This may be important if you need humidity control in an area that is either naturally cold, such as an unheated warehouse, or that must maintain a low temperature because it houses perishable products, for example. A product like the Ebac DD-700 High Capacity Dessicant Dehumidifier is an example of a model that is made for operating at lower temperatures.
Removal Capacity
You'll find that a commercial dehumidifier usually comes with a specification for "PPD," which stands for "pints per day." That number indicates the number of gallons of water the unit can remove in a 24-hour period. Professional dehumidifiers on the lower end of the spectrum may remove an amount like 17 PPD, such as this Ebac CD35P Mobile Dehumidifier with Pump. This Ebac DD-1200 Industrial Dessicant Dehumidifier removes a whopping 562 pints of moisture per day. What you need for your business will depend on the size of space you need covered and the moisture in the environment.
Mounting Hardware
Just like some commercial grade dehumidifiers are made to be moved around, others are made for permanent installation and ongoing moisture control. If you have the need and space to permanently install a unit, you might be interested in a model that comes with hardware for safely and securely mounting it to a wall or ceiling. This Ebac WM150 High Capacity Dehumidifier works well in pool and spa areas, for example.
Humidistat
Many models of industrial dehumidifier will have an adjustable humidistat to regulate humidity — and some you can even operate remotely. This Ebac CD100E Humidity Control Commercial Dehumidifier has an internal alarm humidistat, which is also ideal for remote monitoring. It operates intermittently, automatically turning on and off to save energy — and money — by maintaining the desired humidity level.
Finding the best commercial dehumidifier doesn't have to be a chore if you identify which features are a necessity for your business before you shop.
For a free consultation on your commercial dehumidifier needs, contact Pure n Natural.