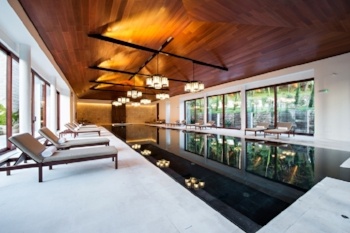 Nothing is more humid than a room with a pool — moisture just comes with the territory! Indoor pool, hot tub or spa areas need ongoing humidity control. Chemicals and water evaporate into the air around your pool, increasing the humidity level consistently.
Air with high humidity will soak its way through everything in the environment, condensing on walls, the floor, windows and more — this collection of water can cause corrosion, rot, mold and bacteria growth, and other unpleasant consequences. Protecting the health and integrity of a high humidity environment means installing a pool dehumidifier to help regulate the indoor environment.
Fortunately, some manufacturers offer commercial dehumidifiers that are designed to specifically handle the moisture issues associated with pools. Learn what you need to know about how to make this essential purchase.
Places that need pool dehumidifiers
Manufacturers make pool dehumidifiers that work not only for pools, but other associated humidity-producers. These specifically designed commercial grade dehumidifiers work for:
Indoor pools
Hot tub areas
Spas
Saunas
Immersion tank facilities
Athletic facilities
Locker rooms
Anywhere else with an indoor water source that creates ongoing moisture
Factors to consider before buying
Purchasing a pool dehumidifier means your choices among dehumidifiers will be narrowed down, however there is unlikely to be a one-size-fits-all solution. You'll still have to consider some factors before making a purchase.
Some factors that to consider when dehumidifying a pool or hot tub area include:
Size of pool, hot tub or other source of humidity
Size of room containing water source
The water's surface area
Water temperature
Time in which the pool or hot tub is covered, sauna is operated or the like
Talk to an indoor environmental systems professional about any special concerns you have about your pool dehumidifier needs, including the specifics of your indoor environment.
The features of pool dehudifiers
Like any industrial dehumidifier, those meant for pools are labelled in terms of "PPD" — or "pints per day" — to indicate how much water they remove in 24 hours. Pool dehumidifiers need to remove a lot of water. The Ebac PD-200 Swimming Pool Dehumidifier, for example, removes 190 pints per day.
Other features that may be available with a pool dehumidifier and important for your needs: an adjustable or remote humidistat, hardware for mounting, drain and hose attachments or ports for automatic pumping and ducting capabilities. You can also find models with defrosting systems to operate under low ambient temperatures.
Talk to an experienced indoor environmental solutions specialist to find out what available pool humidifier options will best meet your needs.
For a free consultation on your pool dehumidifier needs, contact Pure n Natural.