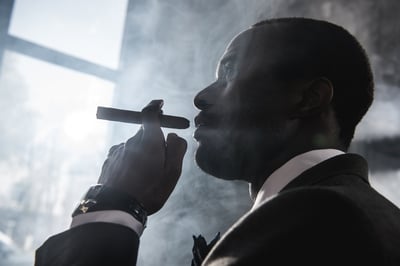 Smoke eaters are essential for any business that needs to create a comfortable indoor environment and protect workers and patrons from the byproducts of smoking. Cigar lounges, vape shops, hookah bars—owners of businesses like these know that creating a comfortable and safe indoor environment is essential to maintaining a successful business.
Many homes and businesses can benefit from a high quality smoke removal system that includes smoke eaters. Whether you are concerned about the effects of secondhand smoke, allergens, or other particles in the air, a commercial smoke eater can help.
Businesses that Need Smoke Eaters
If you own a business, store, or retail outlet that allows patrons to light up indoors, you need a smoke removal system to keep employees and customers safe. A simple ventilation is not enough.
Removing carcinogens from the air will also protect your products and property—and make the environment smell better and appear less hazy to boot!
The following businesses often need smoke removal systems:
Cigar bars and lounges
Cigar bars
Vape shops
Hookah bars and restaurants
Bingo halls
Casinos
VFW halls and other membership organization facilities
Bars and nightclubs
Any other business in which people smoke indoors needs a reliable commercial smoke eater. If you are running a business that allows smoking indoors—such as a cigar bar or hookah lounge—you will also want to familiarize yourself with local municipal regulations that affect your business regarding smoke removal.
Have a smoking lounge or cigar room in your house? Home smoke eaters are a great way to protect yourself.
Applications for Use
The type of business you have and its location can impact the features that you'll require. Some particular concerns for business owners include:
Odors and gases
Tobacco smoke
Fire smoke
Marijuana odors
E-Cig and vape byproducts
Allergens
Chemicals
Dust
Considerations for choosing the right smoke eater
Some other factors that you might want to consider while choosing the right smoke eater for your business:
Size of the interior space, including the height of the ceiling
Where you plan to install the smoke eater
Capacity of your business
Amount of patrons or visitors you expect to be smoking at once
All these factors will play into which smoke eater models will best suit your needs. If you have trouble figuring out how to determine any of this information, it helps to talk to an experienced contractor or indoor air professional about the specifics of your space.
Smoke eater features
Not all smoke eaters are the same. Different features make different models a better fit for some types of businesses.
Some smoke eater features include:
Units that can be concealed
Flush mounted models
Media filters
Electronic filters
HEPA filters
If aesthetics are a concern at your business—perhaps you own a high-end cigar bar—consider concealed and flush-mounted smoke eaters for a more streamlined look. Smoke eaters can be mounted out of sight, in spaces such as behind a wall, in an attic or basement or in a crawl space. If looks are less of a concern, wall-mounted and duct-mounted smoke eaters are also an option.
Smoke eaters also come in a variety of finishes, including metal, white and woodgrain.
Smoke eater specs
Air flow needed and room size are two important specifications you should figure out in order to determine the best commercial grade smoke eater for your business.
1) Air flow
In the case of smoke eaters, CFM (cubic feet per minute) it is a measurement of air flow—the velocity at which air flows into or out of a particular space. Smoke eaters come with a variety of CFM capacities, from about 175 CFM to 2,100 CFM.
2) Room size
Using the general length times width formula, you can figure out the square footage of your space. Different models of smoke eater will be indicated for different room sizes of room, ranging from about 250 square feet up to 2,000 square feet.
Some businesses may require multiple smoke eaters to properly and efficiently remove smoke from the affected indoor air. If you don't size your unit or units properly, you run the risk of compromising your indoor environment and efficiency. That could potentially lead to lost business, which would impact your bottom line.
If you need help determining what you need, talk to an experienced indoor environmental systems professional.
Air cleaning methods
Smoke eaters can rely on different methods of purifying the air, and some units use multiple methods. Units with media filters use a filtering process to collect particles and more.
For instance, media smoke eaters need regular filter replacement. Electronic smoke eaters work by giving pollutant particles a charge and gather them into a cell, which requires periodic cleaning.
Here are the most common methods of air cleaning:
Media: This is one of the most common methods of filtration among smoke eaters. As mentioned above, media filter units capture particles as air passes through filters that require regular replacement.
Electronic: These units give particles a charge and collect them in electronic cells. The cells require regular cleaning. Electronic units may operate more quietly than other options, if noise is a consideration for your establishment.
High carbon or carbon: Smoke eaters with carbon filtration contain activated carbon that absorbs tobacco smoke, odors and other contaminants.
HEPA: Indicating the presence of a "high efficiency particulate arrestor," a HEPA filter absorbs more than 99 percent of particles that are a size of 0.3 micron (or really, really small).
Budget and brands
Home smoke eaters typically cost between about $650 to $1,700, depending on the features and how much space you need the unit to cover.
Some reputable manufacturers include:
Airgle
Airpura
DesignAir
EnviroKlenz
IQAir
LakeAir
How often you need to replace filters or clean components will affect the cost of ongoing maintenance and convenience of the unit you choose and should factor into your decision-making. Well-maintained home smoke eaters will operate better and more efficiently.
Create a comfortable and safe environment
No one wants to sit in a dense fog of smoke, even when enjoying a cigar, vape, or other smoking product. Whether you have a dedicated cigar room set up in your house or you own a business where smoke removal is a concern, a simple investment can protect your health and your property.
Keeping the air clear with a smoke eater and the proper levels of ventilation is necessary to create a comfortable—as well as safe and healthy—environment that people will want to return to again and again.
For a free consultation on choosing the right smoke eater from professionals with nearly three decades in the industry, contact Pure n Natural.