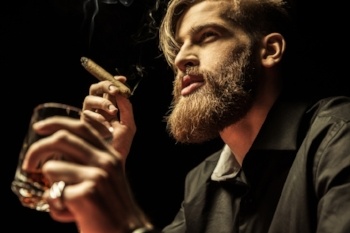 Nothing sucks the joy out of enjoying a great cigar than a stuffy, stinky atmosphere. Setting up a place to comfortably enjoy a smoke — be it a commercial cigar business or home hideaway — requires proper ventilation. Ensuring a flow of fresh air helps create the perfect cigar lounge experience and protects you and your patrons or your family from the dangers of cigar smoke or unpleasant smoke smell.
Level 1: Windows and fans
Cigar smoke needs to find its way outside somehow! It's hard to enjoy a fine cigar in a cloud of smoke, which isn't good for your health anyway. At the most basic level, you need windows that open and some kind of fan or exhaust mechanism to draw smoke out. While this primitive approach might suffice for a secluded detached cigar room in a private residence, it probably won't meet standards for a commercial setting.
Level 2: Air purifiers
In addition to removing allergens and other harmful indoor particles, dust, odors and other allergens, air purifiers can help sanitize an indoor environment of cigar smoke. They can be a great solution in a residential setting with limited indoor smoking. Starting at just a few hundred dollars for a wall-mounted unit, these can be purchased on most budgets.
Level 3: Smoke eaters
For the safest and most comfortable cigar room ventilation, a smoke eater with separate ventilation is optimal. Smoke eaters can be used in a a home or commercial setting, such as a cigar lounge where patrons and bar decor need protection. You can choose from models that use filters or remove smoke electronically, and even mount flush to the wall. Smoke eaters will cost more than other solutions, starting at several hundred dollars for a basic home model, but will be the most effective and worth the investment.
If you're in the market for an air purifier or smoke eater, it helps to talk to an experienced dealer about your needs. Things like your cigar room layout, square footage, ceiling height and material, existing HVAC system, budget and aesthetic preferences might play into what works best for you.