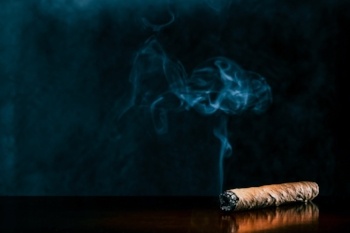 Inhaling smoke of any type comes with risks. It can aggravate respiratory ailments — like asthma — and cause longer-term health problems, ranging from cancer, lung and heart disease, and oral disease. Even if you don't smoke, secondhand exposure can still expose you to toxic chemicals, including nicotine. Over time, it can also cause damage to furniture and other property — at the very least creating a stink! Luckily there are ways to help mitigate the dangers of cigar smoke — and other smoke — to protect yourself and your indoor environment.
1) Obviously one of the most simple ways to avoid the dangers of cigar smoke is to prohibit smoking indoors. This may not be an option if you run a business like a cigar lounge.
2) Improving ventilation also helps protect against the hazards of smoke indoors. Opening windows and using fans to circulate the air can be another basic option for protection, as far as levels of cigar room ventilation goes.
3) Installing an air purifier or air cleaner is another option for helping to eliminate cigar smoke. This option can work to help eliminate cigar smoke in a smaller environment with more occasional smoking, along with other allergens, harmful chemicals and odors.
4) Smoke eaters are essential if you operate a business like a cigar lounge, casino, club or other smoke-friendly atmosphere. However, if you have a dedicated smoking area in your house, home smoke eaters are also a good, protective measure to take.
Talk to a dedicated indoor environmental solutions professional about how to protect your business or home from the dangers of cigar smoke. There are a lot of solutions on the market that have different features, filtration methods and price points.
For a free consultation on choosing the right system to counteract the dangers of cigar smoke, contact Pure n Natural.