Clean and Deodorize virtually any surface - Without Using Chemicals!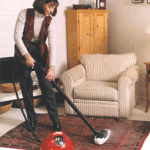 Steam vapor easily removes dirt and grime from most any surface, emulsifies grease and oils as well as other surface contaminants and produces temperatures hot enough to kill viruses, molds, bacteria and germs. Plus, dust mites, fleas, flea eggs and flea larvae are also killed by short term exposure to high temperature steam heat. No chemicals or poisons are necessary. The use dry steam heat in general contributes directly to better indoor air quality by reducing chemical residues and removing airborne particles.
Vapor steam cleaning is particularly effective in cleaning bathrooms, tile, sealed wood floors, kitchen surfaces, sinks, ovens, refrigerators, upholstery, walls, removing wallpaper, window screens, boats, RVs, automobile interiors and tires, nurseries, pet areas.... the possibilities are endless. The unique benefit of dry steam vapor is that is produces a low moisture, high temperature vapor that carries only about 6% (six percent) water: we like to call this "dry" steam vapor because so little water is left behind and so little is used. The patented system gives us the proven power of heat to safely sanitize and clean while reducing chemical use. Carpets are dry within minutes. This reduces the time and effort required for many challenging cleaning tasks. Reliable Steam Cleaners offer a lifetime warranty on the boiler system.
Other uses for your vapor steam cleaner include defrosting freezers, thawing frozen pipes, dusting and misting live plants, and polishing jewelry are but a few of the non-cleaning applications. This appliance comes with a variety of accessories creating a system that can be used on an unlimited number of applications. Dry steam vapor can be used for everything from carpets to oven cleaning. The process eliminates chemical residues while sanitizing the surface being treated. Because so little water is consumed, approximately 1.5 quarts per hour, it's virtually "mess free". The Ladybug Vapor Steam Cleaners are quiet and portable and can be used anywhere at anytime.