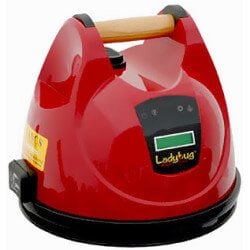 In the age of environmental friendliness, more people are moving to "green" cleaning solutions. Not only are chemical-free cleaning methods better for planet Earth, they are also less toxic for human beings and don't aggravate allergies. But do they really work?
When it comes to most cleaning sprays, scrubs and other products, the answer is oftentimes no. Unfortunately, many of these simply don't have the impact on grease, oil, viruses, dust mites, bed bugs and other contaminants. That's why the chemical alternatives keep selling… they work despite their drawbacks.
There is one cleaning method, however, that is 100% chemical free, environmentally friendly, highly effective even on stubborn grime, grease, dirt and unwanted critters. What is this magical substance? "Dry" steam.
What is Dry Steam?
Instead of just your average, run-of-the-mill steam, "dry" steam is a low-moisture, high-temperature vapor that only carries about 6% water. Just around 1.5 quarts per hour are consumed.
Unlike traditional steam, this variety allows hard floors, carpets and whatever else you clean to dry within minutes.
How Does a Dry Steam Cleaner Work?
Because of its unique properties, dry steam reaches temperatures between 221○ - 300○ Fahrenheit. This is plenty hot enough to kill:
viruses
mold
bacteria
germs
dust mites
fleas
flea eggs
flea larva
even those hard-to-destroy bed bugs
The tremendous power of dry steam cleaners has such a positive effect on air quality and allergies that WebMD and other medical authorities recommend it for its ability to improve air quality. What's more, it only takes short exposure to a dry steam cleaner to get the job done.
Are These Steam Cleaners for Home or Business Use?
Both! Affordable models are manufactured for home cleaning. Industrial models are produced that will easily stand up to daily use in commercial settings such as hotels, schools, restaurants, office buildings, retirement homes, hospitals and practically anywhere else.
Dry Vapor Steam Offers Many Uses
Unlike other cleaning methods and solutions that can fade colors, ruin fabric and cause allergic reactions; vapor steaming surfaces is perfectly safe. You can use a steamer to:
Clean and sanitize bathroom countertops, floors, tubs/showers and toilets
Clean and sanitize kitchen countertops, cabinets, floors, sinks, ovens & other appliances
Kill bed bugs, fleas, dust mites and more
Clean upholstery, carpets, tile, vinyl and sealed wood
Remove wallpaper
Clean boats, RVs, automobile interiors and tires
Clean and sanitize nurseries and pet areas
Defrost freezers
Thaw frozen pipes
Dusting and misting plants
Polishing jewelry
Sanitize production lines for baking, meat packing, pharmaceutical & more
And much more
Whether you want a truly effective "green" cleaning solution, you're trying to create an allergy- and asthma-friendly environment or you simply want one of the fastest and least toxic ways to clean, vapor steam is our number one recommendation.