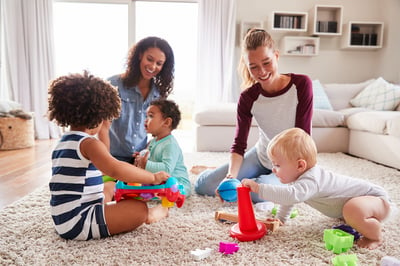 Nothing beats the heat of the summer months like air conditioning. But if your home doesn't have an existing HVAC system or you cringe at the thought of your high utility bill after running the AC all season, you need an alternative air conditioning option. The answer may be a portable air conditioner.
Portable air conditioners are great for cooling hot rooms when whole-house air conditioning isn't feasible. They can be moved wherever you need, and today's models come with many features that help you get your room the perfect temperature.
But with so many models to choose from, how do you know what the best portable air conditioner is for your home? First, you need to understand your options. Here are some questions you should answer to find the portable air conditioner that will best meet your family's needs.
What's your budget?
Most portable air conditioners for residential use cost between $300 and $400, which is why they're such an affordable option. The differences in prices largely stem from different features and efficiency, so when looking for the best portable air conditioner you'll have to weigh your needs with your budget.
For instance, dual-hose models are more efficient and better for cooling larger areas but cost more than less-efficient single-hose models. Other features that contribute to efficiency, reach, and customization can also cost more but may be worth the cost if that's what you need.
How's the humidity?
Humidity is half the battle when trying to cool your house. If you live in a humid climate, look for a portable air conditioner that also doubles as a dehumidifier. Units should be labeled with how many pints per day (PPD) of moisture they can remove. The higher the number, the better.
How much space?
Portable air conditioners work best for individual rooms or areas with plenty of air flow. To get the best portable air conditioner for your home, you need to know the square footage of the area you're planning to cool and look for a unit with enough BTUs. The more BTUs of cooling power a unit has, the larger an area it can cool.
You'll also need to consider that a portable AC unit takes up floor space. Read the manufacturer's dimensions to make sure you have room for the unit you need.
What are your room's conditions?
Another thing to consider about the area you want to cool is if there are any factors that make it naturally hotter or cooler. For instance, is your living space on the sunny south side of the house or shaded by lots of trees? Will the whole family be packed into the area when you want it cool? Are you trying to cool a kitchen where appliances make it hot?
If the room you want to cool is on the hotter side, the best portable air conditioner is probably one with a little more cooling power to make up the difference. Conversely, you may get away with a less powerful model if a room is already naturally cooler.
Do you need to accommodate different preferences?
The best portable air conditioners today come with a variety of settings and features that allow you to customize your cooling experience to fit your lifestyle. For example, many models have different fan speeds and programmable settings and timers. Some families might prefer a model designed to have a lower noise level.
Other features to look for are easy to use touch display panels, a convenient remote control, wheels for mobility, and the capability to double as a heater. While some features will increase the price, with so many options it's easy to find a portable AC unit that everyone in the family loves!
Finding a Portable Air Conditioner Made Easy
With so many choices on the market, it's easy to wonder what the best portable air conditioning unit is for you. Shop Pure n Natural's selection and get the help you need when you contact us today for a free consultation.