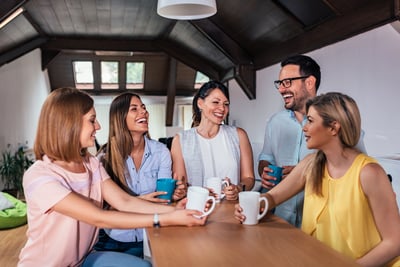 You may already know that countertop water coolers will save you space in your workplace, but do you know about what else they can do? A countertop bottleless water dispenser replaces the need for a free-standing cooler, as well as eliminates the storage required for bulky replacement tanks; but it can also come with many other features, some of which might be important and appealing for your business.
Water coolers have come a long way from the days when all they did was cool and dispense water from a giant jug. Today, modern bottleless water coolers provide offices more than just a refreshing drink of water. If you weren't aware of what updated countertop bottleless water coolers can do and how those features can benefit your office, keep reading to find out more about what you've been missing out on.
1) Black, gray or stainless steel finishes
If you are considering buying a countertop bottleless water cooler, you may be as concerned with aesthetics in your office as you are with space. A finish that matches your decor could be the look you need.
Fortunately, countertop bottleless water coolers come in all colors and finishes these days. From blacks, grays, whites, and metallic, you can choose from a variety of unit styles that come in sophisticated neutral colors and finishes that will seamlessly match any office decor.
2) Hot and cold temperature settings
Yes, they're called water "coolers," but that's not necessarily all they do! Despite their streamlined profile, a tabletop bottleless water dispenser can come with the same options as a regular bottleless water cooler. Multiple temperature settings allow users to easily make hot beverages and instant food as well as get an icy cold drink of water.
In fact, since most countertop bottleless water coolers find themselves in the breakroom, having temperature controls and hot water options are especially sensible for these models. Everyone likes a multi-tasker in the office, so why not pick one as your water dispenser?
Like any appliance, a countertop bottleless water dispenser can come with the EPA's gold standard for efficiency. These energy efficient units require less electricity to run, cutting down on both utility costs and power plant pollution. This is a great option for a responsible business that's interested in saving money and the planet! Look for the Energy Star label when shopping for a countertop bottleless water cooler.
And don't forget, by going bottleless you're also reducing the amount of plastic going into landfills and fuel emissions from the recycling process. Way to be green!
4) Extra large dispensing area
Although they're known for their compact size, many countertop bottleless water coolers still have plenty of room for dispensing water into a variety of receptacles. For instance, if you need a countertop bottleless water dispenser for a fitness facility or similar business where employees or patrons regularly fill reusable sports bottles, many countertop water coolers are designed specifically for that purpose. With about 9 inches of space for dispensing water, these dispensers may have reduced bulk, but not functionality!
While city water treatment removes dirt and debris and other contaminants from water, small amounts of dangerous elements may still remain, such as mercury and lead. Like other models of bottleless office water coolers, countertop models come with a variety of filtration methods, including reverse osmosis, that remove these contaminants and give you cleaner water than drinking straight from the tap.
Reverse osmosis uses the pressure of your plumbing system to push water through a synthetic membrane to filter out an average of 95% of the dissolved contaminants found in tap water. It's not unlike the naturally occurring process of osmosis in the human body and is highly effective at giving you and your officemates purified water for healthy drinking.
Explore the features of countertop bottleless water coolers
Countertop water coolers can be half the size of free-standing models, saving a significant amount of space in any office. They hook into your regular water line, just like a commercial coffee maker, which means no more expensive replacement jugs or service contracts. They've also become a standard amenity that employees and visitors expect in modern workplaces. But they can also do so much more.
If you weren't aware of all the features countertop bottleless water coolers offer before now, maybe it's time to shop around and try one in your office. The variety in styles, settings, functionality, and filtration options in countertop water coolers today can meet the needs of any work space looking to update their water dispenser to a compact unit with all the bells and whistles.
Looking for a countertop bottleless water cooler that fits your office's style, space, and needs? Contact Pure n Natural today for a free consultation and more information.