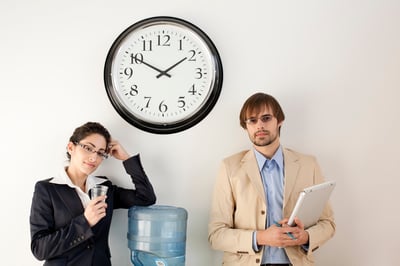 "Don't be a slug, change the jug."
If passive aggressive notes like this have appeared in your office space, you may be ready to rid yourself of your old, unwieldy office water cooler and the replacement tanks that come with it. However, you still need to provide palatable drinking water for your employees. Sure there's always the tap, but nothing beats consistently cold, purified water for quenching your workday thirst.
These days, there are more options for updating your office drinking water source than ever before. Your best bet is a bottleless water dispenser, but if you're looking to really maximize benefits, go for a tabletop model. Offering your employees a tabletop water dispenser can save money, space and the look and feel of your office environment. It can also eliminate the need for nagging notes!
Still not sure if it's time to ditch the water jug in favor of a bottleless tabletop water dispenser? If you see any of these six signs in your office, that should be enough to convince you.
1. You're thirsty!
It seems obvious, but today's businesses need to offer clean, filtered water to employees, vendors, and visitors. Your company requires some kind of water solution that makes drinking water easily accessible to everyone. It's not just an expected courtesy—it's a health requirement.
If your office doesn't currently have a water dispenser or is still using an old unit with the jug that no one wants to refill, you might be leaving workers and visitors high and dry. You can fix this problem by installing a modern tabletop water dispenser in an easily accessible place so even visitors who are unfamiliar with your office space know where to get a refreshing drink throughout the day.
2. You think protecting the environment matters.
Responsible businesses are happy to adopt green initiatives that keep our world clean and pollution-free. A bottleless water dispenser eliminates the need for waste-producing plastic bottles, hooking directly into the existing water supply. It also avoids the waste of gas and environmental costs of picking up or delivering replacement jugs.
Most tabletop water dispensers are bottleless. Many are also energy efficient, which can contribute to reducing power plant emissions. Look for the Energy Star label when picking a tabletop water dispenser to get one that not only saves you from thirst but the environment from pollution as well.
3. Your budget is a concern.
Everything in business comes down to the bottom line. Luckily, your office water cooler doesn't have to hurt it! After the initial investment, your cost of maintaining a bottleless water cooler is minimal.
There's no need to buy pricey replacement jugs or sign expensive service contracts to offer fresh, filtered water to your employees. The only part you may need to replace is the water filter, which should last anywhere from six months to a year.
Considering all the ways they can benefit your office, bottleless water dispensers are not terribly expensive. Your best bet for maximum costs savings and quality, however, is a tabletop unit. Tabletop water dispensers start at about $350 and come with all the features a pricier freestanding model would.
4. You want a convenient water option.
There's nothing more convenient than having a fresh, cold glass of water—or a hot water option for instant food and beverages—on the counter of your office break room. With a tabletop water dispenser, you can have all three!
Most modern water dispensers come with temperature settings, allowing you to pick how cold you want your drinking water or switch to hot water for your tea or cup of instant noodles. With one unit you can meet everyone's water needs with just the push of a button or spigot.
5. You need to save space.
The number one reason to choose a countertop water cooler or tabletop water dispenser is to save precious office space. No storage-hogging, unsightly jugs, no free-standing office water cooler, and no supplies of individual plastic bottles are required.
Slight, compact tabletop water dispensers are the solution to providing fresh water in a small office space without giving up any benefits of a water dispenser. Tabletop units are meant to work just as hard and efficiently as freestanding models, just while taking up less space!
6. Aesthetics are important.
A tabletop water dispenser arguably blends into the environment better than any other water cooler solution. A bottleless water cooler saves space, but a countertop version saves even more.
Additionally, they come in a variety of colors, finishes, and styles to fit any office decor. Pick from a range of neutral blacks, whites, grays and metallics to coordinate and complement your workplace aesthetics.
Ready to take the plunge?
If you've noticed any of these six signs that it's time to upgrade to a tabletop water dispenser for your office, don't waste any more time refilling that old water jug. You and your employees deserve a stylish, compact water dispenser that saves you time, money and space. Treat yourselves to a tabletop water dispenser that has features everyone can enjoy and you'll never receive a not-so-subtle office note about your water cooler again!
Not sure which tabletop water dispenser meets all of your needs? For a free consultation on choosing a tabletop water dispenser for your office, contact Pure n Natural.