A countertop water dispenser is a practical, easy way to hydrate your body with pure, clean water every day.
Every day, you may hear on the radio, TV, or internet. information that's related to living a healthy lifestyle... Information that you should carefully consider if your goal is to live longer and healthier. As easy as it may seem, there are certain steps we must take to ensure this healthy lifestyle, such as eating regularly, making healthier food choices, exercising often, and drinking plenty of water. The water advice is always related to the quantity of water we're drinking but, curiously, doesn't always mention the quality of water. Of course, there are many advertisements for bottled water that tout the need for drinking pure water for a healthier lifestyle, but we don't really know if that water is collected from a pristine mountain stream or that it's as pure as they claim it is.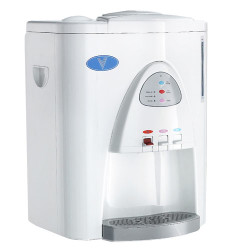 In other words, not only do we need to drink a minimum of 2 liters of water a day, but we also must drink high quality water that doesn't have any impurities or substances that can damage our health now, or in the long run. What is the solution? Are we doomed to drink bottled water that we don't really know anything about other than the advertised content? Well, there's a simple solution - a countertop water dispenser! Sound too good to be true? No worries! This article will not only bring forward the advantages of a countertop water cooler, but also the things it does for your everyday water-consuming necessity.
What is a Countertop Water Dispenser?
First of all, a countertop water dispenser is a bottleless water cooler that represents exactly what its name implies: a machine that cools the water you drink, for which you don't need a bottle to drink from. Is that all? Of course not! It has numerous amazing features, and some of them are the following:
A Countertop Water Dispenser has an advanced filtering system that helps every member of your family or co-worker enjoy the taste of delicious and pure water that's healthy and impurity-free.
Countertop Coolers save a lot of space so it's very practical in tight spaces, and it requires only a cup to enjoy fresh and cool water.
Because countertop water dispensers are also considered bottleless water coolers, they eradicate the need for bottles, making hydration more practical and environment-friendly.
Most models provide not only cold water, but also hot water, ready for soup, a cup of tea or an instant cup of coffee … instantly!
User-friendly technology makes the whole water dispenser easy to use and always capable of providing fresh water.
How Does a Bottleless Water Cooler Improve Your Life?
Not only does this type of water dispenser give you cold water, but it gives you hot, filtered, impurity-free water too! It's a constant supply, always ready to hydrate your needs during a workout, at work, or even at home. A bottleless countertop water cooler from Pure n Natural Systems will give you reasons to drink more water, because not only does it filter the water, it also reduces the sediment, chlorine, bad tastes & odors, making the water more tasteful and enjoyable.
Will choosing a bottleless water cooler from Pure n Natural help to improve the way you feel? Yes! As long as you drink plenty of pure water, and you follow the code for a healthy lifestyle, you'll start to feel a drastic change in the way you feel, work and enjoy life.