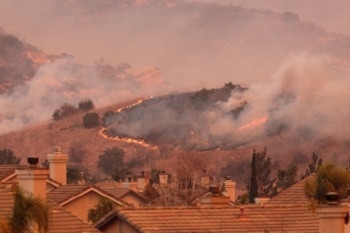 Recent years have seen some devastating wildfires around the U.S. and especially the western part of the country — that means a lot of people have been affected by fire smoke at home and at work. 2017 was one of the worst years for wildfires on record.
Even before the deadly wildfires hit Southern California in December of last year, 2017 was one the costliest year for wildfire damage in history — with estimates surpassed $10 billion, according to CNN. Further:
"The October [2017] wildfires in Northern California caused 'unprecedented levels of air pollution throughout the Bay Area,' air quality officials said. To put things in perspective, air quality is considered "very unhealthy" when the index reaches 201. At one point, the air quality index in parts of Napa reached 486."
Each year from 2008 to 2018, the average number of fires per year was nearly 1,200 and affected over 24,000 acres each in the United States, according to the National Interagency Fire Center.
The dangers of fire smoke
Even if you're not being directly affected by the flames, forest fire smoke can exposure your home to pollutants and cause harm to you and your property. Everyone is vulnerable, but, according to the CDC, particularly:
Older adults
Children
Anyone with heart or lung diseases
Fire smoke can affect your health in many ways. According to the EPA:
"Smoke is made up of a complex mixture of gases and fine particles produced when wood and other organic materials burn. The biggest health threat from smoke is from fine particles. These microscopic particles can penetrate deep into your lungs. They can cause a range of health problems, from burning eyes and a runny nose to aggravated chronic heart and lung diseases. Exposure to particle pollution is even linked to premature death."
How to avoid fire smoke
If wildfires occur near your home, the first priority should always be safety. Check air quality reports for your area. Follow evacuation orders from appropriate agencies. If you're not directly in the line of fire, you can prep yourself from the ill effects of smoke. Take these precautions:
1) Talk to your doctor.
If you have asthma, allergies or another respiratory ailment and live in an area where fire smoke is a hazard, talk to your doctor in advance about what your needs to manage your respiratory condition might be in a smoke advisory situation. Don't rely on dust masks, which are only designed to trap large airborne particles.
2) Control the circulation of indoor air.
Close windows and doors. Run your air conditioner but keep the fresh-air intake closed and the system's filter clean. These measures will help prevent outdoor smoke from getting to the interior of your home.
3) Keep indoor air clean.
In addition to keeping outdoor air from seeping in, you can also protect yourself from the dangers from fire smoke by ensuring the indoor environment is safe and clean using an air purifier or smoke eater to filter the air. Talk to an indoor environmental solutions specialist about your specific concerns, and options for air purifiers and smoke eaters.
If your indoor air and environment do become infiltrated by smoke, you can also follow our tips for smoke smell removal.
For a free consultation on your home's air purifier or smoke eater needs, contact Pure n Natural.