The EnviroKlenz Air Purifier is a popular solution for those of us looking to create healthier, safer environments at home and at work. It's far from the only air purifier on the market, though. You may be wondering if this mobile air purifier is worth the price tag.
We've put together a review to help you decide if the EnviroKlenz Air Purifier is the right solution for your home and office.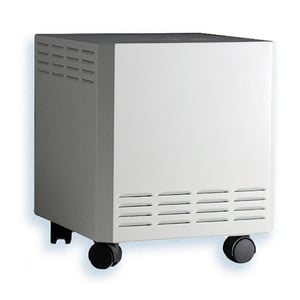 Why Use An Air Purifier?
Before you can judge a machine on its ability to perform a task, you have to be clear about the task. Most people use air purifiers to remove allergens, odors, chemicals, VOCs (volatile organic compounds), and other contaminants from the air. This is especially important if you have pets, if you're someone who suffers from allergies or asthma, or if you or someone in your home or office smokes tobacco. Purifying the air in your living and work spaces is important for anyone wanting to live a toxic-free life, though, as indoor air is usually several times more contaminated than outdoor air.
What are the Pros and Cons of the EnviroKlenz Air Purifier?
When it comes to purifying the air of contaminants, the EnviroKlenz performs extremely well. Here are a few reasons we like it.
Pros
This air purifier is truly mobile

.

The EnviroKlenz is built on 4 casters that make it easy to roll to different parts of your home or office.

It also plugs into any 110-volt outlet, increasing the number of places you can use it.
It covers serious airspace

. Purifying air in areas up to 750 square feet, this small unit packs a massive punch.
EnviroKlenz is built cleanly

. This machine is made from toxic-free materials and produces no chemical off-gassing.
Hospital-grade air purification comes to your home. The EnviroKlenz combines HEPA filtration with its own patented filtration cartridge to remove 99.7% of pollen, fragrances, mold, and other contaminants from the air.
You have 4 airflow speed options

. Air purifiers are notoriously noisy, but with 4 different airflow speeds, you can find a setting that is most comfortable for you. (The lowest is nearly silent.)
As much as we might like the EnviroKlenz, it seems nothing you buy comes without some sort of drawback. Here are the drawbacks we found with the EnviroKlenz Air Purifier.
Cons
The price tag can be a little cringe-inducing to new buyers

.

If you've never purchased an air purifier, or you've only used a smaller unit that you picked up at a department store, then throwing down hundreds of dollars on this unit might not be something you're ready for.
Maintenance costs are affordable, but they're still costs

. Replacing filters and maintenance the machine require no tools or heavy labor, but if you want the air purifier to continue working, you're going to have to do some upkeep, and that will cost you.
How it Compares to Carbon-Based Purifiers
Carbon is a commonly used material used in air purifiers to help with chemical and odor "elimination". Carbon can absorb odors, but it does have some drawbacks. Carbon only physisorbs odor causing molecules; That means the unwanted chemicals do not react chemically with the carbon and over time, if the carbon filter is not maintained properly, they can be released back into the air.
EnviroKlenz on the other hand, is a unique blend of active media where each component that goes into it has broad capabilities on its own, while still offering specific strengths. EnviroKlenz works physically and chemically with many different chemical families. The result is an active media with broad adsorptive & neutralization capabilities. When a chemical interaction occurs between the EnviroKlenz active media and the odor molecule, it does not let go, so it won't ever be released back out into your room.
Is the EnviroKlenz Air Purifier Right for You?
If you're serious about heightening air quality in your home or work environment, the EnviroKlenz Air Purifier is definitely a great option for you. It can clear enormous spaces or dust and odors, and even at higher settings, it's relatively quiet. The mobility and compact design make it hard to beat for someone willing to invest in clean air. If you're just dipping your toes into toxic-free living at home or in the workplace, though, this might not be your best option. If you suffer from asthma, allergies, or unwanted odors in your life and work spaces, though, it's worth considering this fantastic air purifier.