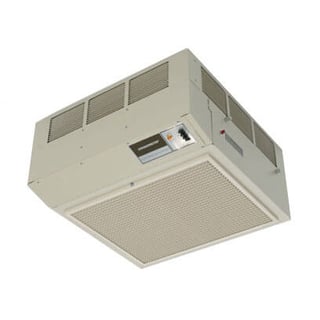 This Attractive and Effective Smoke Eater is Great for Your Tobacco Shop or Cigar Lounge.
Without natural outside ventilation, lingering smoke can irritate your skin or eyes. It can get into fabrics, furniture, and even walls, leaving a stale odor and eventually discoloration.
If you're looking for a smoke eater for your tobacco shop, or cigar lounge or an air purifier for your home, look no further than the SmokeMaster C-12 Electronic Air Cleaner. Measuring in at less than 12-inches high, this top-of-the-line commercial air cleaner will provide a cleaner, fresher smoking area for you and your customers. It's attractive, yet unobtrusive and comes in Ivory or Black cabinet finishes to easily match any décor. Dual electrostatic cells ensure smoke and other airborne particles are captured and held securely until washed. Optional carbon post filters add the finishing touch for polishing off the purified discharged air. If you opt for the wall switch, you'll be able to control the unit without climbing a ladder or standing on a chair.
For areas with limited ceiling height, the SmokeMaster X-11Q Electronic Air Cleaner is the flush mount version of the C12 and is also considered a superior electronic air cleaner. Both units offer a solution for a commercial or retail space like an office, cigar lounge, restaurant, tobacco shop, bowling alley, or bar.
Which one you go with depends on the look you want and the requirements of the space in which you're installing your smoke eater. Both smoke eater models will remove and filter odors and contaminants from cigar smoke, cigarette smoke, or hookah smoke.
To recap, if you're looking for smoke removal in a space up to 1,000 square feet but with limited ceiling height, you may want to go with the SmokeMaster X-11Q. It fits flush mounted into any 4' x 2' drop ceiling tile space. It's a high efficiency air filter that removes dust, pollen, and other particles along with smoke by giving particles an electrical charge as they pass through an electrostatic cell. The particles are then trapped on an oppositely charged collector plate which holds them like a magnet.
The SmokeMaster C-12 removes smoke from your home or business through the same process as the X11Q (called "electrostatic precipitation"). It discharges clean air on all four sides with multi-directional airflow. The SmokeMaster C-12 can service a large space up to 1,000 square feet, or provide more air changes in a smaller space. Both models are quiet, economical, easy to install, easy to clean, and offer an optional three-speed wall switch control.
If you're looking for a home smoke-eating cousin to the SmokeMaster C-12 and X-11Q, you'll want to check out the AirMac-750E Home Smoke Eater. Also effective in areas up to 1000 square feet of space, the AirMac is just as efficient. Using less energy than a 120-watt light bulb, it costs mere pennies to filter the air in a 20' x 20' room over 5 times in one hour, trapping 97% of all airborne particles.
For questions about any of these three electronic home smoke eater models, call 1-800-237-9199 toll-free, USA or Canada, and be sure to ask us about our monthly specials.