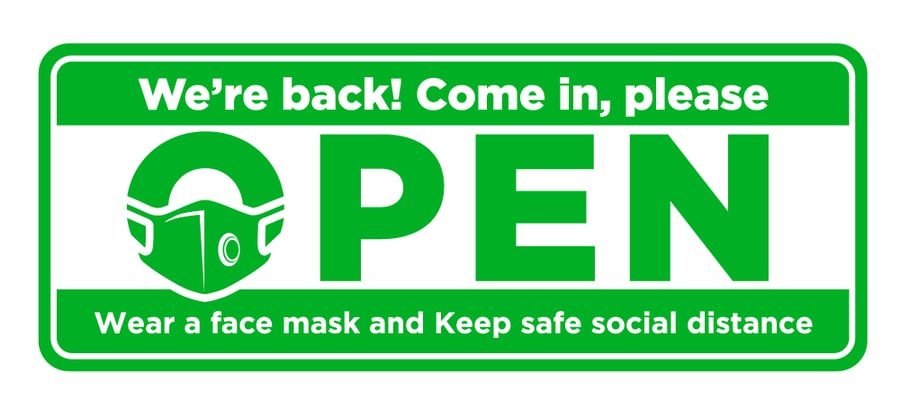 There is definitely a right way & a wrong way to reopen your dental office during COVID-19. You must straddle the line between keeping patients and staff safe, and effectively doing your job.
This feat is challenging when you work in an occupation that requires coming into extremely close proximity to your patients and their respiratory droplets. According to the Occupational Information Network developed by the U.S. Department of Labor, four of the top five most unhealthy jobs are dental hygienists, dentists, laboratory technicians and dental assistants.
Fortunately, there are practices you can implement to safely and successfully reopen and run your dental office during COVID-19. Also, just as critical as new practices is investing in a reliable medical-grade air purifier...
Implement These 7 Practices To Protect Your Patients & Staff
1. Explain The Importance Of Personal Protective Equipment
You can allay patients' fears about getting exposed to coronavirus by explaining how personal protective equipment safeguards them. Doing so will also make the appearance of PPE-clad staff less disturbing and more comforting.
2. Spread Appointments Out
Now is not the time to stack appointments on top of each other. Give patients space to breathe in both the waiting room and the dental chair. Stagger appointments at first when you reopen your dental office during COVID-19.
3. Change Appointment Confirmation And Check-In Procedures
Make qualifying questions during confirmation calls a normal part of the procedure. Lay out your practice's rules for patients such as wearing a mask and not allowing anyone to accompany them. The rules for patients at dentist's offices are generally the same as those for patients at doctor's offices.
Ask questions to determine whether patients may have coronavirus. Questions include:
Do you have a fever or have you had a fever in the past few days?
Do you have any/all of the following: cough, shortness of breath, sore throat?
Have you come into contact with anyone who has tested positive for COVID-19 or with anyone who has been exposed to COVID-19?
When it comes to check-in, close the reception room and check them in over the phone. Take the temperature of every patient before you grant them access to the office. In general, people with a temperature of 100.0 degrees or higher are considered to have a fever.
4. Accept Deliveries Outside
Do not let delivery drivers into the office after you reopen your dental office during COVID-19. Instead, receive deliveries outside and sanitize them immediately, before bringing them into the building.
5. Minimize The Spread Of Respiratory Droplets
Intimate contact with patients requires measures that contain and minimize the spread of respiratory droplets since coronavirus is transmitted primarily when these droplets are expelled into the air. Measures that prevent this from happening include using a rubber dam and a high volume injector during procedures.
6. Sanitize, Sanitize, Sanitize
The importance of this practice cannot be overstated. All surfaces should be sanitized before opening, in-between each patient and at closing. This means cleaning every single surface, including those that may not immediately come to mind, such as the arms, seats and headrests of dental chairs. Door knobs should also receive frequent cleanings.
Following proper glove protocol is also imperative. There is a specific process you must follow in order to avoid contaminating your hands while removing them. You should get a new pair of gloves in between clients and whenever you touch a different public surface.
7. Invest In An Air Purifier
You should institute multiple levels of protection at your dental office. Air purifiers are a highly effective way to keep EVERYONE safe when you reopen your dental office during a time like COVID-19. These devices are designed to banish airborne contaminants before they can spread illness. There is a wide range of air purifiers you can select, from wall plug-ins to ultra-sophisticated, hospital-grade units.
Why are hospital-grade purifiers important for your dental practice during the pandemic?
They improve air quality for patients that have weak immune systems such as seniors, children and those with certain medical conditions.
They eliminate harmful particles in the air from respiratory droplets.
They filter out allergens and air contaminants that promote the spread of diseases and illnesses.
EnviroKlenz air purifiers effectively remove particulate matter using a powerful hospital-grade HEPA filter. This feature allows these units to effectively remove at least 99.97% of fine particulate matter from the air quickly.

Airgle cHEPA filtration delivers powerful removal of airborne particles. These units are certified to ultra-fine particles down to 0.003 microns and have an efficiency rating of over 99.999%. Airgule systems are AHAM certified in all performance measures that are recognized by the EPA.

The HEPA efficiency filter in Airpura units traps 99.97% of airborne particles, capturing particles as small as 0.3 microns. These air purifiers 360° air distribution blast up to 2,000 square feet with two air exchanges per hour. Some Airpura models include ultraviolet sterilization.

Pure n Natural Systems, an industry leader in air purification, offers the Air-XJ2, which contains a medical-grade HEPA filter. The Air-XJ2 is an effective solution for dental offices. The XJ-2 air filtration system is independently tested and certified as a whole air cleaner to a minimum of 99.97% efficiency.

KwiKool has been manufacturing portable cooling systems since 1997. The company prioritizes safety and quality when developing all of its air purifiers. KwiKool units purify spaces as they cool them. The company arms its products with an exclusive four-point "air therapy" process that retards mold and microbe growth above and beyond the industry standard due to an exclusive state of the art HEPA filter.
Choose from the best hospital-grade air purifiers:
Air-XJ2 | Negative Pressure Hospital Grade HEPA Filter System for Isolation Rooms

The best and most effective negative pressure and HEPA filtration system available for isolation rooms and other high risk areas.

Airgle AG600 | Best Air Purifier for Medical, Dental and Healthcare Facilities

Cleanroom grade HEPA filtration plus activated blended carbon, and the exclusive Titanium Pro UV module, easily control airborne particles, chemicals, odors, and microbes. Excellent for controlling tobacco smoke as well as microbial contaminants.

Airpura P600 | The World's Most Advanced Air Purifier Featuring TitanClean

UV Sterilization combined with TitanClean reflector, true HEPA and 18 pounds of carbon removes microbes, pathogens, airborne particles, chemicals and odors from your indoor air. Number 1 choice for laboratories, offices, chemical facilities.

BioKool™ Air Therapy | Portable Hygienic Air Conditioner from KwiKool®

Available in Air Cooled or Water Cooled version. 13,800 BTU's of cooling, combined with HEPA/ULPA filtration + UV Disinfection provides a complete solution for hospitals, healthcare facilities and dental offices.

MiracleAir PM-400 | Portable HEPA Air Cleaner

Includes surgical grade HEPA air filtration for super efficient capture of dust, pollen, dander and other indoor air contaminants. The PM-400 delivers clean, fresh-smelling, breathable air. Effective in areas up to 1,500 sq. ft. of open space.

View Our Full Selection Of The Best Air Purifiers for Dental Offices




Thoughtful Re-Opening, Big Success
The current situation certainly presents challenges, but with a commitment to safety and following the proper guidelines, you will set your dental practice up for success throughout the coronavirus and beyond.
Pure n Natural Systems has been offering products that safeguard the health of dental patients and employees for decades. We take pride in delivering world-class customer service and offering benefits including:
Free shipping on orders that total $100 or more
30-day Returns
Pure Rewards - 1 Pure Point for every dollar you spend
Safe and secure shopping
More than 30 years of experience
No payment financing for 90 days, qualified customers only
You can depend on our clean, healthy air and water products from Pure n Natural Systems to make your dental practice a safe space now and in the future. Let us help you select the best purification equipment for your practice's needs.
Safeguard your health and your family's health by investing in a portable air purifier. There has never been a better time to purchase one.