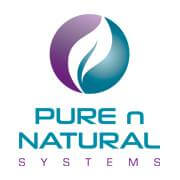 Pure n Natural Systems, Inc. is pleased to announce the launch of its brand new website design! The new website includes an interactive list of the company's product catalog, both featured and sale items, as well as the official Pure n Natural blog.
Pure n Natural Systems' website is designed to give customers an easy and satisfying shopping experience. The website is neatly organized and provides plenty of useful information to give every customer plenty of confidence when deciding which healthy home and workplace products to purchase.
"On behalf of everyone here at Pure n Natural Systems, I am beyond excited to announce that we have officially launched our new website," said Pure n Natural Systems, Inc. co-owner, Brenda Roy. "The goals that we have set for ourselves at Pure n Natural Systems is to give the world the benefit of having clean air and clean water, whether that be in their homes or elsewhere. The products that we have on our new website were designed to protect you and your family from environmental pollution, and to give everyone the opportunity to live healthier and happier lives. It's our job to constantly monitor this sophisticated market to help ensure that our customers will always have immediate access to the latest and most proven products available anywhere, and our new website makes it much easier to achieve this."
Pure n Natural Systems, Inc. has been in business since 1989, and offers a wide range of products like home and commercial air conditioners, portable air purifiers, home air cleaners, central air filtration, portable space heaters, room humidifiers, vapor steam cleaners, ductless-split heat pumps, down bedding, smoke eaters, drinking water filters, water purifiers and much more.
"When we were looking to re-deign our website, we knew that the website we had previously been using was very much dated. As a company, we wanted a new, clean look that was both welcoming and easy to navigate as well as mobile-friendly." said Pure n Natural Systems, Inc. owner, Joe Roy. "In addition to being easy on the eyes and user-friendly, we wanted to make it a point to have plenty of great information on our website so that our customers would know exactly what it is that they're in the market for, which is why the blog is so important. Pure n Natural Systems has developed this unique website of specialized healthy home products to offer your family a single source of easy and affordable home environmental protection solutions. Whether you are looking to improve your air quality, your drinking water, or both, our new website will point you in the exact direction that you need to go in order to make these significantly healthy upgrades in your everyday life."