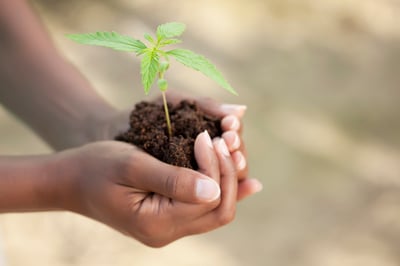 Whether starting from seedlings or clones, the biggest thing affecting a young cannabis plant's growth is the room's climate. In the first couple of weeks, plants need steady temperatures between 70 and 80-degrees Fahrenheit with Relative Humidity (RH) around 65-70%. For most, getting humidity and temperature lower is a daily challenge, but young plants need higher numbers to promote vigorous growth. When the plants are freshly propagated they don't have roots yet to bring in enough water to support themselves so they rely on the air's RH to both provide water and create external pressure that acts as a sort of seal for locking moisture in the leaves. Once the roots begin to develop, humidity is gradually lowered telling the plant to search for water with additional root growth.
It all sounds quite simple on paper but even the most experienced grower will struggle without the right tools in their grow room or propagation tent. For consistent success, you'll want to have a humidifier (or two - remember to always have redundancy built into your setup in case any equipment fails) on hand to get your cuttings off and running without missing a beat. Investing in a humidifier for your young plants will more than pay for itself over time with increased plant size, yields, and faster root development.
We've already put together a guide explaining the different types of humidifiers on the market which should help you decide what will be best for your setup. Feel free to take a moment to refresh your memory on humidifier-type pros and cons then let's take a look at some great, Pure n Natural options.
Determining the Size of Your Space
A little simple math of "Length x Width x Height" will give us the room's square footage which we'll need to know for selecting the right humidifier size. It may seem like bigger is better, but consider this: You wouldn't bring a jackhammer to open a jar of mustard in the same way you wouldn't bring a teaspoon to quarry rocks. The right tool for the job will always yield better results.
| | |
| --- | --- |
| Small humidifiers | 300 square feet |
| Medium humidifiers | 350-500 square feet |
| Large humidifiers | 550-1000+ square feet |

What Features Do You Need?
Automation is almost always better, but of course, it also costs more money upfront. At a minimum, every humidifier you consider should have a built-in hygrometer to measure the room's RH and keep it consistent at your desired levels or be able to link to an external hygrometer that controls your humidifier's output. Noise levels, filtration types, and warm mist versus cool mist will all be specific to the needs of your individual growing space and preferences. It may seem complicated but we'll try to make this as easy as possible with some featured humidifiers in each size range with some basic specs and notable features. Let's begin.
Small to Medium Humidifiers
BONECO U200 | Cool Mist Ultrasonic Room Humidifier
1.8 gallon per day output in rooms up to 430 sq. ft.
With the U200 ultrasonic humidifier, you can expect a soothing and comforting environment. Because the U200 uses high-frequency vibrations, the water turns into a micro-fine mist. Then, the cool mist is blown into the room where it evaporates immediately. The super quiet humidifier consumes very little power, and a replaceable demineralization cartridge ensures water mist without limescale or mineral residues.
Water-level window for easy visual checks on the water tank
Integrated mist output regulator from low to high
Ultra-quiet operation
Energy efficient
BONECO S200 | Warm Mist Steam Humidifier
1.8 gallon per day output in areas up to 430 sq. ft.
Steam humidifiers are the most hygienic way to humidify your air because heating water to 212°F ensures a bacteria-free and mineral-free result. Steam is delivered to your room providing a pleasant stream of warm, humidified air. An Anti-Mineral pad decreases calcification in the vaporizer basin and makes it easy to clean.
Analog display with simple control knob operation
Cleaning mode ensures simple & easy cleaning
Water tank refill indicator light
Anti-mineral pads prevent white dust discharge
Includes 2 anti-mineral pads & 1 pack of EZCal cleaner
BONECO S250 | Digital Warm Mist Steam Humidifier
1.8 gallon per day output in areas up to 430 sq. ft.
This is basically the upgraded version of the Boneco S200 humidifier featuring a digital display and humidity level controls.
Digital display with easy humidity controls
Manual mode with high or low steam output
Water level window plus empty and cleaning indicator lights
Anti-mineral pads prevent white dust discharge
Includes 2 anti-mineral pads & 1 pack of EZCal cleaner
BONECO U300 | Cool Mist Ultrasonic Humidifier - Top Fill
2.2 gallon per day output in rooms up to 540 sq. ft.
This easy-to-use humidifier provides a cool mist to your room by using high-frequency vibrations to turn water into a micro-fine mist. It consumes very little power, and, a replaceable AquaPro Water Filter ensures a fine water mist without limescale or mineral residues. It also features a built-in output regulator so it lets you control the amount of moisture to add to the room.
Easily accessible top-fill tank
Water level window
Integrated mist output regulator control from low to high
Water refill indicator light and auto shut-off when empty
Energy-efficient & ultra-quiet
OSKAR Room Humidifier by Stadler Form
2.4 gallon per day output in rooms up to 540 sq. ft.
This humidifier is loaded with desirable features including 5 humidity output levels, night mode, 'no-water' indicator, integrated hygrostat, and fragrance dispenser.
Integrated Hygrostat - 5 Humidity Levels including 'continuous operation'
Output Speed - LED panel lets you choose high or low output speed
Night Light - 3 Light Settings - Normal, dimmed, or lights-out
Easy to fill water tank with water level window
Water Top-Off Opening - Easily refill with a water bottle or watering can without turning the unit off!
Water Cube prevents the growth of waterborne germs and bacteria inside the humidifier
Energy efficient with 18-watt max power
Auto shut off when water levels are too low
BONECO W200 | 2-in-1 Air Washer and Humidifier
2.2 gallon per day output in rooms up to 540 sq. ft.
The only 2-in-1 air washer and humidifier on the small to medium list, this evaporative humidifier will capture air impurities giving added function while also providing your plants with humidity.
No replacement filters or evaporator mats required
Easy to clean and operate
Very low power consumption
Auto shut off when water tank is empty
Dual day and night operation modes
Large Humidifiers
BONECO U700 | High Capacity Ultrasonic Humidifier - Cool or Warm Mist
4 gallon per day output in areas up to 1,000 sq. ft.
Digital display and smart features combine with the option to switch between warm and cool mist at the touch of a button with this high-volume humidifier.
ITC™ Technology (Intelligent Temperature Compensation) - Automatically regulates the humidity output to create the most comfortable level relative to the temperature in your room
Demineralization Cartridge (DMC) inhibits microbial growth on the surface of the cartridge to maximize filter life
Cool or Warm (104°F) Mist - During cool mist operation, ambient temperature is not cooled down. There's also a pre-heating function for warm, 104°F mist output
Ultra-quiet operation
Visible water-level tank
Durable with high quality, industrial-strength titanium membrane surface for fast dispersal of mist into the air, designed for years of use
BONECO S450 | High Capacity Digital Warm Mist Steam Humidifier
3.5 gallon per day output in areas up to 860 sq. ft.
Warm mist humidification creates bacteria-free, mineral-free steam to humidify your room. Most importantly, the built-in hygrostat is programmable via the digital touch panel.
Touch Panel includes intelligent operation modes - AUTO and ECON Mode with adjustable hygrostat
Manual Mode with 3 Output levels
On and Off plus Timer
Automatic Display Dimmer
Decalcification mode for easy cleaning
Water level window
Empty and cleaning indicators
Anti-Mineral-Pad to collect lime in the water base and prevents white dust output
BONECO H680 | Hybrid HEPA Air Purifier & Humidifier
6.34 gallon per day output in areas up to 1,075 sq. ft.
Rounding out the list is the second air purifier and humidifier entry boasting an impressive 112 CFM output.
Intuitive digital touch panel display
Remote control of all functions including air quality & humidity levels
Reminders for replacing filters, add water, and cleaning required
Particle counter and hygro sensor
AUTO MODE for fully automated operation
Operates as an Air Purifier, Humidifier, or Both
High functionality and long-lasting components
Read more about the BONECO H680 Air Purifier & Humidifier here.