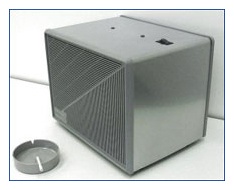 Breath mints. Room deodorizers. Cologne and perfume. These are just a few things you usually find in a smoker's possession. Why? Because most smokers don't want their breath, clothes or houses to smell like smoke.
When you get tired of the sprays, air fresheners and candles that do limited good, it's time to move up to a more effective solution: a home smoke eater. With so many home smoke eaters on the market, how do you choose which one would work best for your house or apartment?
A good start is to answer these three questions:
#1 - What Shape is Your Room?
If you have a single designated smoking area (a room, a basement, etc.) that is square shaped you can accomplish your goal with one smoke eater. However, L-shaped, rectangular or adjoining rooms would do better with several smaller smoke eaters as opposed to one large model.
#2 - What Size Smoke Eater Will Do the Job?
The bigger your home and the more smokers you have in it, the more powerful your smoke eater will need to be. Here are some factors to consider:
Size of area - What's your square footage? How tall are your ceilings? What type of ceiling do you have?
Mounting preference - Do you care whether the smoke eater is surface-mounted, flush-mounted, or wall-mounted?
How many smokers are in your home at any given time?
Adequate CFM - "CFM" stands for cubic feet per minute and it relates to how many times the air is cleaned. The standard is 10-12 air changes per hour (ACH). You can figure up the CFM by multiplying your smoking area's length x width x height. Then you divide by the ACH.
#3 - What Type of Home Smoke Eater Do You Prefer?
There are two types of Home Smoke Eaters to choose from.
Media Type – These units have filters that will need to be changed regularly. Although they are lower in maintenance, media units have a higher cost over the long run due to filter replacement.
Electronic – This type of smoke eater will trap smaller microns and particles than a media-type unit will. In addition, these smoke eaters don't use filters. Instead they use electronic cells. The cells don't have to be replaced, but they do have to be cleaned.
Still have questions about home air cleaners? We'd be glad to help. Just give us a call toll-free at 800-237-9199.