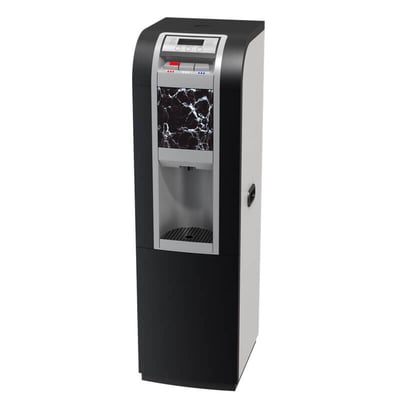 According to the Container Recycling Institute, "Each day in the US more than 60 million plastic water bottles are thrown away. Most end up in landfills or incinerators, and millions litter America's streets, parks and waterways." In addition to non-biodegradable plastic taking over our cities, the cost of bottled water is enormous compared to other forms of filtered water.
There is a way to eliminate all the plastic along with the high cost and wasted space needed to store and refrigerate bottles of water: the AquaBar II Deluxe Point-of-Use Water Cooler.
When your home or business has decided to ditch the individual plastic bottles and/or water jugs, the AquaBar II Deluxe bottleless water cooler has a lot to offer.
Direct-Line Installation
Because the AquaBar II Deluxe connects directly into your water line, you have a continuous flow of fresh, clean, great-tasting water at the press of a button.
No more hauling heavy cases of water to the break room and fighting to make the bottles stand up correctly in the refrigerator. No more frustration over all the space in your fridge being taken up by those water bottles with little room for anything else.
Four-Gallon Cold-Water Storage Tank
While we should be drinking five to eight glasses of water every day, the fact is that most people consume more water during warm-weather months. Because it takes a little while to pull in and filter the water, some bottleless water coolers store it in a reservoir. If you have a lot of water consumption, the tank can run out of cold water from time to time.
With the AquaBar II Deluxe's huge four-gallon cold-water storage tank, you'll have plenty of readily available water all throughout spring and summer.
Advanced Filtration Options
While some bottleless water coolers have minimal filtration, the AquaBar II Deluxe offers premium options.
Standard Filtration (Two-Stage)
Stage 1 – Sediment filter (using spun, bonded polypropylene) offers "green" filtration as a first step toward removing impurities.
Stage 2 – Next, a uniquely designed activated carbon filter with a cellulose-free synthetic fiber matrix takes water filtration to the next level by performing as a sediment filter and a carbon block filter in one cartridge.
Reverse Osmosis (Three-Stage)
If you opt for a reverse-osmosis, three-stage filtration setup, you'll have the cleanest and purest drinking water. This process eliminates sediment, impurities, solids, viruses and bacteria.
Stage 1 – As with the standard filtration system, stage one is an advanced sediment filter to remove impurities.
Stage 2 – Reverse Osmosis Membrane extracts and/or kills 99.9% of impurities, dissolved solids, viruses and bacteria.
Stage 3 – Post-Carbon Filter – In the final step, the post-carbon filter removes taste-altering elements (and more), so you're left with only great-tasting, pure, clean water.
It's not just the water that needs to be clean. The tank also requires a bit of attention to ensure that it remains safe and germ-free. The optional in-tank UV accessory provides constant tank sanitizing so you can drink worry-free.
Convenience and Then Some
When you're looking for the ultimate in convenience and performance, the AquaBar II Deluxe delivers. Three water temperatures are available on demand including hot, room temperature and cold. The advanced electronic control system provides adjustable hot/cold water temperatures; plus, you can turn the hot water completely off to save energy.
The Hot Booster function delivers a shot of hot water ideal for a quick cup of tea or other hot drinks, or soup. The hot water safety faucet prevents accidental burns by requiring a two-step action for dispensing.
While standard coffee mugs and short cups are easy to use with free-standing water coolers, popular sports bottles and carafes have long been a problem to fill with ordinary models. The AquaBar II Deluxe has solved this problem by offering a large 8.5" dispensing area with ample room to refill empty water bottles, sports bottles, pitchers and other containers.
Fashion and Function
As good looking as it is useful, the cabinet features a marble-style panel with satin-finish silver trim that works with practically any home or office décor.
If you want one of the most popular and best-performing bottleless water coolers on the market today, check out the AquaBar II Deluxe. When you're making your comparison, feel free to contact us with any questions you have. We'd love to help you choose a water dispenser that fits your precise needs and has the features you want most.