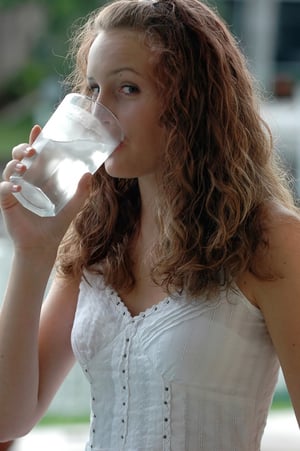 The thought of bottled water for most people is one of ease and convenience. You buy the water, pull out one bottle at a time as you need it… done! That is until you look at the truth behind that convenience. Bottled water is horribly expensive monetarily and environmentally.
According to a blot post on Mind, Body, Green "plastic bottles are not sustainable, no matter what we've been told." What's more "most bottled water is glorified tap water at 10,000 times the cost."
Practically speaking, whether you buy bottled water for your home or business, the expense, lost space and waste generated far outweigh the convenience. But what if you could have your "bottled" water without all the drawbacks? You can with a filtered water dispenser (a.k.a. bottleless water cooler).
Advantages of using a filtered water dispenser are huge. Because these systems are installed directly into your water line, you don't have to buy and store five-gallon bottles of water. You have an endless supply of water that is filtered and available for use immediately.
Bottleless Water Coolers are:
Point of Use – Your water is not sitting in a bottle for an unknown period of time from an unknown source (probably a tap in some factory somewhere).
Eco Friendly - These types of filtered dispensers save plastic because they are completely bottleless.
Saves Money - Even when you incorporate the cost of the unit, you'll save money in the long run over buying cases of bottled water or using a water dispenser that requires five-gallon jugs. In addition, buying a water filtration system outright saves even more over the cost of leasing.
Saves Space – No more huge jugs or cases of bottles to store.
Hot or Cold Water on Demand - Depending on the model, there is no waiting for ice-cold, room temperature or steaming hot filtered water.
Easy to Install - Hooks directly into your water line with ease. We recommend having a plumber install it for best results.
Attractive - Unlike ugly stacks of bottled water or piles of jugs, these water dispensers are attractive and can match any home or office décor.
Check out the wide selection of water dispensers to choose from in both counter top and free-standing floor models. Have questions? We're always here to help.