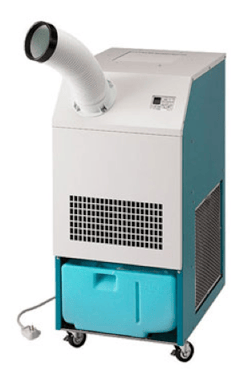 It's summertime and the heat is on. With vacation season in full swing, folks are on the move and begging to be outside while the weather is warm and sunny. Or so they think. Many love the idea of being outdoors as long as they don't have to endure bugs, humidity and sweltering heat.
Once the temps and climate exceed certain levels, you'll begin to find the open-air tables at restaurants empty, farmer's markets a bit less crowded and drive-in theaters with plenty of space to spare. Depending on the individual, reaching 80, 90 degrees or above can be grounds for staying indoors. Who wants to see all those tables go unturned, or fruits and veggies wilt before your eyes?
Yet, people still have to eat and be entertained. What's the solution? Portable air conditioners. These types of mobile spot coolers are excellent solutions for outdoor dining or entertainment establishments because they can be positioned almost anywhere to reduce humidity and temperatures, and keep insects away.
If you own or manage:
Drive-In Theaters
Restaurants
Bars
Farmer's Markets
Roadside Produce Stands
Outdoor Festivals/Events
…or other outdoor venues, investing in a portable spot cooler can actually increase your revenue during summer months.
Portable Air Conditioners Assist Those with Medical Conditions
Comfort isn't the only reason patrons choose not to be outside when the temps soar. People that live with certain medical conditions simply can't be outdoors when it is too hot. Customers with allergies, asthma or other breathing issues are vulnerable to high levels of humidity as well as heat.
By installing spot coolers in the outdoor areas of your business, you offer these folks a wonderful way to enjoy the best summer has to offer without so much concern for their health.
The Backend of Business
While the front end of your business is working to keep customers cool, the backend can use a cold shot as well. Server rooms of all types of companies are especially susceptible to problems when heat is involved.
As outlined in an article from Consulting-Specifying Engineer magazine, the MovinCool spot cooler saved the day for the University of Louisville Health Care Outpatient Center whose computer servers kept failing due to overheating.
Whether you operate a restaurant or an assembly line, computers rebel when their environment heats up. If you have one system for your entire operation that means your servers will likely be too hot. You could reduce the temperature throughout your whole building, but the increase in your electric bill would likely be shocking. It's significantly less expensive to purchase and run a spot cooler.
Choosing the Right Portable Spot Cooler for Your Needs
There is a wide range of movable models available from those on wheels to ceiling- and wall-mounted air conditioners. While options are always a good thing, they can make decisions harder. Here are some guidelines for selecting the right A/C for your business.
1. Inside or Outside?
It is easier to control the temperature of inside environments as opposed to outdoor locations. If you're cooling an outside venue, you may require more units than if reducing temperatures of indoor spaces.
2. Determine the Square Footage
The square footage of the space to be cooled as well as the number of people expected to occupy that location should be noted. Body heat can increase the temperature of a room quickly. The more people, the more powerful your portable spot cooler should be.
3. Size Matters
While you need a unit(s) that will handle the heat (indoors or out) you also don't need overkill. Bigger is NOT better. Look at the chart below for recommendations about what size portable A/C would work best for your application.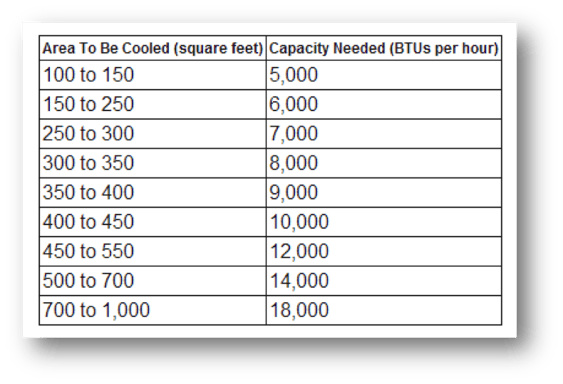 As we caution on our site, "An oversized air conditioner is actually less effective - and can waste valuable energy at the same time. Because portable air conditioners remove both heat and humidity from the air an oversized unit will cool the room quickly, but only remove some of the humidity. This will leave your room with a damp, clammy feeling. A properly sized unit will effectively remove humidity as it cools."
4. Other Considerations
If your indoor or outdoor location has a significant amount of shade, reduce the capacity by 10%. On the other hand, if the location gets a good deal of sun, increase the capacity by 10%.
If more than two people are in a closed-in room consistently, 600 BTUs should be added for each additional person. If you plan to place the portable spot cooler in a kitchen, you'll want to boost the capacity by 4,000 BTUs to compensate for the additional heat.
Still have questions about using portable air conditioners? We're always here to help. Contact us today for answers.